Turn Back Time at Cornerstone Suites, Egg Harbor's Countryside Retreat.
Egg Harbor, Wisconsin's "Best Small Town" of 2011, is a combination of the past and the present. Cornerstone Suites' 100 year old barn brings together the rustic beauty of the 19th century with the luxury of today with its four renovated private rooms. With multiple levels, vaulted ceilings and whirlpools, each suite transforms into a home away from home. Relax in the "crows nest" sitting area that overlooks Wisconsin's serene landscape or head out on your Door Country adventure; visit the vineyards for delicious wine tastings or ride through Sturgeon Bay on a scenic boat tour. The coziness of a B&B with the comfort of a hotel, Cornerstone Suites is your Egg Harbor destination.
Wifi
Restaurant Onsite
Pets Allowed
Property Size 4 units
Conference Facility
Kids Allowed
Nearby City Egg Harbor
Nearby Water Lake Michigan
Open Dates All Year
Family
Door County is a good time for the whole family! Enjoy the gem of Wisconsin with your entire family! Take a stroll through scenic Sturgeon Bay or head to Peninsula Bay for a day trip! The family will love spending time on the beaches of Lake Michigan or enjoying a scenic boat tour of the bay. There's something for the entire family at Cornerstone Suites!
Nature
Located near five different state parks and surrounded on three sides by Lake Michigan there's no shortage of ways to get out and enjoy Nature's finery. You can rent all sorts of watercraft, hop on a charter fishing trip, try your hand at kayaking, or simply jump in for a swim! Come enjoy all the nature has to offer at the Cornerstone Suites.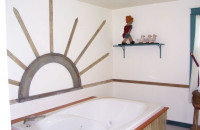 Romantic
Door County is one of the most intimate and fun-filled destinations for your Wisconsin vacation. Cornerstone Suites provides the everything from private suites to two-person whirlpools and spacious rooms that are beautiful and romantic while maintaining the comfort that every traveler needs. You'll love the relaxing setting and the chance to spend quality time with your loved one.
Ecotourism
In the heart of the soothing Door County, there's so much to see and do at the Cornerstone Suites. Enjoy the sun glittering on Lake Michigan and rent a kayak to explore more closely. Or, visit one of the five nearby state parks and wilderness areas. There's no wrong way to enjoy a vacation here!
Luxury
Among the charm and style that recalls a bygone era, Cornerstone Suites features every modern luxury including cable TV with DVD players, two-person whirlpool tubs, multiple private baths and gas log fireplaces. This is comfort with a completely unique Door County vacation style.
Lake
The great Lake Michigan surrounds Door County on three sides, and so a stay at Cornerstone Suites truly isn't complete unless you enjoy all the fun that can be had on Lake Michigan. Rent a kayak, simply head to the beach and go swimming, or charter a fishing trip. The choice is yours!
Historical
Cornerstone Suites takes an authentic 19th century barn and transforms it into today's breathtaking interior rooms. With its charming Victorian decor and architecture, spacious Great Rooms and the comfortable "crows nest" sitting room, it is true Door County, past and present!
Honeymoon
Start the newest chapter of your life at Cornerstone Suites! Here, you can stay in one of their beautiful and uniquely designed rooms in an authentic 19th century barn. With Egg Harbor close by for shopping and dining, this is the perfect place for a relaxing honeymoon with your sweetheart.
Holiday
Discover a completely unique holiday experience at Cornerstone Suites. This cozy getaway offers charming rooms in a restored, authentic 19th century barn. Here, you can simply relax with your loved ones and enjoy fun activities nearby in Egg Harbor such as shopping, dining, and more.
Room
Air Conditioning
Alarm Clock
Balcony
Coffee Maker
Deck
Fireplace
Full Kitchen
Hair Dryer
Iron/Ironing Board
Jacuzzi
Microwave
Refrigerator
Whirlpool
Activities
Arts and Crafts
Go Carts
Horseback Riding
Ice Cream Social
Live Entertainment
Photography
Shopping
Sightseeing
Swimming
Tennis
Theme Parks
Wineries
Beach
Bird Watching
Cross Country Skiing
Freshwater Fishing
Hiking
Wildlife & Nature
Sailing
Show more
Show less
Nearest Airports
Austin Straubel International Airport (GRB) / 56.3 miles
Outagamie County Regional Airport (ATW) / 81.1 miles
Wittman Regional Airport (OSH) / 96.1 miles
* Not all airports listed here may be open to public use, or service commercial flights
Vacation Request Successfully submitted. Thank You!