Mountain Top Resort takes convenience and luxury to the next level with charming cabin rentals boasting modern amenities and centrally located near Douglas Lake, the Smoky Mountains, and Gatlinburg. Cabin packages and discounts will save you time and money on great attractions like Dollywood and Ripley's Aquarium. And, instead of the usual motel room, your options are plentiful with three cabin resorts: Douglas Lake, Lone Branch, and Eagle Springs, each situated in breathtaking settings with your choice of mountain, lake, or nature views. A peaceful retreat awaits you at Mountain Top Resort!
Wifi
Restaurant Onsite
Pets Allowed
Property Size 160 units
Conference Facility
Kids Allowed
Nearby City Knoxville
Nearby Water Douglas
Open Dates All Year
Family
At Mountain Top Resort, family-friendly is an understatement! Two-, three-, and four-bedroom cabins are ideal for families with separate living rooms, full kitchens, porches with gas grills, and hot tubs. For family reunions, its two grand lodges feature plenty of kitchen space and recreational fun!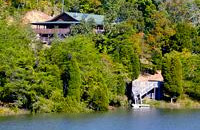 Lake
Famous for its tremendous fishing, Douglas Lake is the perfect scenic setting for Mountain Top Resort's cabins. The resort provides a boat ramp and boat rental and cabin packages in season. Or enjoy the lake from land on its nature trail that crosses a covered bridge and winds along the lake shore.
Mountain
You can relish in fabulous mountain views from a rocking chair on your cabin's porch, or experience the Great Smoky Mountains National Park firsthand as it is just a few miles away. The Park's 500,000 acres is home to the Appalachian Mountains and more species of trees than anywhere in the U.S.
Romantic
What could be more love-inducing than lying by a wood burning fireplace, soaking in a hot tub, and breathing fresh alpine air from a winding porch? At Eagle Springs, your cozy one-bedroom cabin comes with all that as well a view of the majestic Smoky Mountains that can't be found anywhere else!
Cabins, Cottages, and Chalets
Choose from three distinct cabin resorts: Douglas Lake's more than 100 cabins have a boat ramp, swimming pool, and hiking trails; Lone Branch is a country-style setting just minutes away from Pigeon Forge; and Eagle Springs features luxurious cabins with hot tubs, fireplaces, and wrap around decks!
Activities
Horseback Riding
Live Entertainment
Photography
Show more
Show less
Nearest Airports
McGhee Tyson Airport (TYS) / 30.2 miles
Asheville Regional Airport (AVL) / 62.1 miles
Tri Cities Regional Tn Va Airport (TRI) / 70.6 miles
* Not all airports listed here may be open to public use, or service commercial flights
Vacation Request Successfully submitted. Thank You!