Premier Florida Keys Vacations
Tropical luxury on the shores of the Florida Keys - that's what the KeysCaribbean is all about. Here, amongst the cool ocean breezes, white-sand shores, and azure waves awaits a vacation experience where relaxation and indulgence come hand-in-hand. Choose from a range of spectacular oceanfront accommodations, all with the services and conveniences of a five-star luxury resort. And when you're not relaxing in your spacious villa or condo, the magical oceanfront location is sure to call your name. Come discover and explore the deep-sea on a fishing trip or dolphin cruise. Stay active with a day of surfing and swimming near the shore. Or, simply soak in the sunlight from the beach!
Wifi
Restaurant Onsite
Pets Allowed
Property Size 67 units
Conference Facility
Kids Allowed
Nearby City Marathon
Nearby Water Atlantic Ocean
Open Dates All Year
Beach
The miles of beautiful sugar-sand beaches. The clear blue of the ocean waves. The dazzling sunshine pouring down from the vast skies. All this - and more - awaits with a vacation from KeysCaribbean. Indulge in a beachfront villa or condo and you're truly just steps from the waters and the action.
Family
Families will discover endless fun and entertainment at KeysCaribbean! Here, you're just moments away from the beach and all the great shops and restaurants of the Florida Keys. Watch a play and visit an art museum, or for a bit more adventure, spend a day surfing and swimming in the waves! There's something for the whole family to enjoy!
Holiday
The holidays are the time to relax and celebrate with your loved ones and KeysCaribbean makes it easy to do just that! What better way to spend time with those who matter than on the shores of the Atlantic. Here, you can lounge on the beach with a drink, or head out and explore. Whatever you choose to do, you'll be sure to have an unforgettable holiday vacation.
Luxury
KeysCaribbean knows luxury, and that's why you're sure to discover a truly comfortable vacation with their spacious Florida Keys accommodations. Their vacation homes offer stunning views and amenities such as full kitchens and balconies. It's no wonder you feel right at home!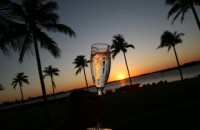 Romantic
Watch the sun rise from your balcony. Lounge together on the beach while the waves roll onto the shores. Indulge in a intimate meal at a fabulous Florida Keys restaurant. And stroll barefoot, hand-in-hand, down the surf as the stars fill up the sky. Your romantic vacation awaits a KeysCaribbean!
Villas and Condos
KeysCaribbean features a wide range of incredible beachfront condos and villas. With the air and feel of a luxury resort, these units are ideal for families, couples, and groups. They offer amenities such as kitchens, balconies, and much more. Come experience a wondrous Florida Keys vacation!
Room
Air Conditioning
Coffee Maker
Microwave
Activities
Horseback Riding
Live Entertainment
Photography
Shopping
Sightseeing
Swimming
Tennis
Beach
Beach
Freshwater Fishing
Wildlife & Nature
Sailing
Saltwater Fishing
Scuba Diving
Services
Concierge
Fitness Programs
Show more
Show less
Plan your next group event at KeysCaribbean.
From family vacations to beachfront weddings, KeysCaribbean will assist in making your Florida Keys experience completely unforgettable! Inquire now!
For more information please call +1 (305) 853 - 5000 or Send Inquiry.
Nearest Airports
Key West International Airport (EYW) / 47.4 miles
Miami International Airport (MIA) / 86.6 miles
Fort Lauderdale Hollywood International Airport (FLL) / 107.6 miles
* Not all airports listed here may be open to public use, or service commercial flights
Vacation Request Successfully submitted. Thank You!